» SET AS YOUR AIM BUDDY ICON

1. Click the icon you wish to have other users see and accept any further prompts.
- Additionally, save the image to your drive and follow the instructions via AIM Properties / Buddy Icon.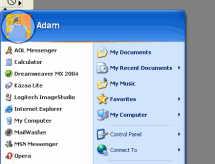 » SET AS WINDOWS XP USER ICON

1. Right click the image you wish to use.
2. Select 'Save Picture As' and save the image to your hard drive.
3. Enter "User Accounts" under the Windows XP Control Panel (Start>Control Panel)
4. Select the user name you wish to change the picture for and select "change picture"
5. Click "browse for more pictures"
6. Locate the image you just saved and select it to set it as your image.