On The Simpsons, Castellaneta usually plays several characters in each episode. But his biggest role is as Homer. Among other roles, he has played Krusty The Clown, Barney, Groundskeeper Willie, Hans Moleman, and Grampa.

Castellaneta is a native of the Chicago area. He has been acting since he was six years old. His first voice character was an impersonation of old-time movie star Edward G. Robinson. He made it to the stage, working in classics like A Midsummer Night's Dream and The Taming of the Shrew. Tracy Ullman saw Castellaneta performing at Chicago's Second City when she was filming Vice Versa. Castellaneta turned down an offer to be in the Nothing In Common TV series to work with Ullman. Her flexible structure and a chance to play all kinds of characters interested him.

Since he's been on The Simpsons, his voice talents have gotten him far, working on cartoons such as Eek! The Cat, The Tick, and providing the voice of Earthworm Jim in the cartoon series. One of his major rolls is playing the Genie in Disney's Aladdin TV series. He also provided the voice for various characters in the Video Game, Clayfighter 63 1/3. Dan started performing in Ben Jonson's 1610 play "The Alchemist" in 2000, and has been behind the microphone once again with small roles in Rugrats In Paris and in the movie versions of Recess The Cat In The Hat, and Hey Arnold! He switched Groening cartoons to play the Robot Devil in Futurama, and in August 2004, he received his third Emmy award for his voice work on The Simpsons.

Castellaneta could be seen more recently doing guest spots on shows such as Arrested Development and Stargate SG-1.


Nancy Cartwright provides the voice for Bart Simpson. A lot of viewers would have thought a male provided Bart's voice, but that is not so. She also provides the voices of Nelson, Todd Flanders, Ralph Wiggum, Kearney, and Database, all of which are male characters.

Nancy's voice has been featured in an endless array of Saturday morning cartoons, including Galaxy High, Fantastic Max, Richie Rich, Pound Puppies, and My Little Pony. More recently, she has provided voices in Cartoons such as Goof Troop, Animaniacs, Aladdin, Toonsylvania, Rugrats, Problem Child, Felix The Cat, and Disney's Timon And Pumbaa. Her face has appeared in Cheers, and Baywatch Nights to name a few. Tracy Ullman added Cartwright to the cast of her show back in 1987, which got her the role of Bart when the show was still a series of shorts.

Recently, Nancy has done voice work in God, The Devil, and Bob and has scored another major role providing the voice of Chuckie on Rugrats after fomer voice Christine Cavanaugh quit in 2001. She also provides his voice on the spin-off All Grown Up.

As Bart, Cartwright gets as much mail as all the other cast members combined. "The piles of mail are bigger than she is," says Harry Shearer. "She is more surprised than anyone that her character has become a modern day folk hero."

When not filming on The Simpsons, Nancy takes her work worldwide, in a stage show titled "My Life As A Ten Year Old Boy", in which she speaks of her life and her time as the voice of Bart Simpson. She also regularly appears as voice of Rufus in Kim Possible.


Julie provides the voices of the three Bouvier sisters, Marge, Patty, and Selma. She doesn't do any other voices because her voice is restricted, but she has when required provided the voice of Jacqueline Bouvier and Aunt Gladys. Julie is probably the cast member most familiar to television audiences in America. She is best known as Rhoda's sister, Brenda Morgenstern on... Rhoda. Julie played Brenda from 1971 - 1978. She won the Emmy for Best Supporting Actress in a Comedy Series in 1978. Kavner also appeared on Tracey Ullman's show since it started, which is how she got the role of Marge.

Since appearing on Tracey Ullman and The Simpsons, Kavner has performed in major films such as Awakenings, Forget Paris, Deconstructing Harry, and providing the voice for the parrot in the 1998 remake of Dr. Dolittle. She also played Midge Dexter in the TV series "Tracey Takes On..".

Most recently, Kavner peformed in an off-broadway play called "The Vagina Monologues" in February 2000. She has also done voice work in the movie Someone Like You and played Timon's mom in the video release The Lion King 1 1/2 released in 2004. Her most recent work can be seen in Adam Sandler's 2006 movie Click as Trudy Newman.

Full name Martha Maria Yeardley Smith. Yeardley Plays the character of Lisa on The Simpsons. She doesn't do any other characters since her voice is so unique. Smith is a very experienced actress with a wide range of roles in movies and TV. She's appeared in such films as She-Devil, Heaven Help Us, Maximum Overdrive, City Slickers, We're Back! A Dinosaur's Story, and As Good As It Gets.

On television, she has starred in Mom's on Strike, and Herman's Head. She has also guest starred on Sydney Brothers, Mama's Family, Murphy Brown, and The Tracey Ullman Show. She has appeared in a semi-regular role on Dharma And Greg playing Marlene, and had Guest Roles on Nash Bridges and Teen Angel.

Yeardley isn't heard on many other cartoons either. We put this down to the fact that her voice is practically Lisa's voice. Not that it doesn't make her any less talented, of course. In recent years she's stuck to guest spots on Dharma And Greg and Becker, as well as lending her voice to Simpsons video games.

Yeardley expanded her voice credits on The Simpsons in the past couple of seasons, voicing characters named 'Lisabella' and 'Lisa Jr,' which were intentionally given the same voice as Lisa. We love you, Yeardley.


While not providing a voice for one of the five family members, Shearer does over 100 voices on The Simpsons, which is more than most cast members do. His most famous voices include Mr Burns, Smithers, Ned Flanders, Principal Skinner, Otto, and Kent Brockman.

Shearer, a Los Angeles native, began acting at the age of seven. He made his film debut in the classic Abbott and Costello Go To Mars and had a small role in the first Cinemascope movie The Robe. When the last days of network radio made way for the early days of live TV, the young thespian appeared often on The Jack Benny Show as well as appearances on GE Theatre, Alfred Hitchcock Presents, and played the role of Eddie Haskell in the pilot episode of Leave It To Beaver. Harry gained national recognition as one of the creators and stars of This Is Spinal Tap, where he portrayed heavy metalist Derek Smalls in the mock rockumentary. Harry was a writer and cast member of Saturday Night Live for two seasons.

Harry's other film work includes Oscar, The Fisher King, Wayne's World II, Little Giants, My Best Friend's Wedding, Godzilla, The Truman Show, Small Soldiers, EdTV, Dick, and most recently, A Mighty Wind and Chicken Little.

His recent television appearances have been on Dawsons Creek, MadTV, and Just Shoot Me among others.


Hank Azaria has about as many regular character roles on The Simpsons as Harry Shearer, but when it comes to one-timer or bit-roles, Hank provides the bulk of them. He is responsible for the voices of Apu, Moe, Chief Wiggum, Comic Book Guy, Carl, Dr. Nick, Snake, Kirk Van Houten, Bumblebee Man, Sea Captain, Professor Frink, Cletus, and Disco Stu just to name a few.

Before his work on The Simpsons, Azaria hadn't done a lot of work in the industry besides some guest spots on Family Ties and Growing Pains as well as some straight-to-video films. Since joining The Simpsons, Hank Azaria has appeared in many successful television and film roles. You might recognize his face from his roles in the movies Pretty Woman, Now And Then, Heat, Godzilla, Celebrity, Mystery Men. On television, he has appeared on Fresh Prince Of Bel Air and Mad About You, and given a familiar recurring role as Phoebe's ex-boyfriend David on Friends. His recent acting credits are Bark, Euology, Shattered Glass, and Captured.

Prior to working on the show, Azaria was a bartender in New York. Azaria married actress Helen Hunt in July 1999 but soon after filed for divorce in December 2000.

Azaria recently produced and starred as the lead character in Showtime's Huff for two years before the show was cancelled in June 2006. His other recent credits include Dodgeball and Along Came Polly.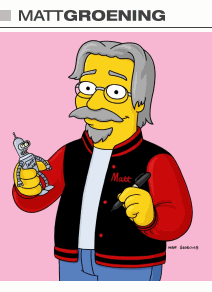 Matt Groening may be pretty nasty to his characters but he's really a friendly guy who laughs easily. And groening has good reason to be happy these days. His animated shows The Simpsons and Futurama as well as his comic strip featuring Binky The Rabbit have made him one of the hottest cartoonists today.

Groening, husky and bearded, never planned to be a cartoonist. He was the third of five children and grew up in Portland, Oregon. Groening's father made advertising films and did some cartooning. And groening's dad was named Homer. All the other Simpson characters except Bart are also named after members of Groening's family. But the real life family members think more, are nicer, and act less rashly than the family members on The Simpsons.

Groening did his share of cartoon drawing when he was a boy. And he was often rewarded for it with a trip to the principal's office. But drawing cartoons was just a way to goof off and have a few laughs with his friends. Groening really wanted to be a writer. He showed some childhood promise. In 1962, he won a short story writing contest in the magazine Jack and Jill.




Groening attended The Evergreen State College in Olympia, Washington. Evergreen didn't give grades and had no required classes. That suited Groening perfectly. He had plenty of time to work on the student newspaper. Groening graduated in 1977. He left the Pacific Northwest and headed to Los Angeles to become a writer.

But things didn't happen as he planned. Instead of writing newspaper or magazine articles, he worked as a chauffer and "biographer" for an 88 year old director of terrible movies. Groening drove the man around and listened to his stories. In the evening he typed up notes about the stories. This was not a great start for a hopeful writer.

The rest of Groening's life wasn't so good either. He lived in a small apartment. The guy downstairs liked to play rock and roll in the middle of the night. At first, Groening tried to get back at him by blasting Reggae music. He finally got his point across by dropping a cinder block on the floor. That knocked out his neighbor's ceiling light.

But this small victory didn't make up for his other disappointments. Groening couldn't stand the Los Angeles smog and unattractive vistas. And his lack of professional progress was a big letdown.

So, for relief, he decided to send a message to his friends back home. It wasn't a boring letter about his unhappiness. Instead it was a comic book about life in Los Angeles. The comic strip starred a somewhat bitter and simply drawn rabbit named Binky. A rabbit was the only figure Groening was able to draw. The rabbit's name, he told Los Angeles magazine in 1985, was the "stupidest" he could think of.

Soon the strip was a small underground success in Los Angeles. Groening was now making 500 copies instead of 20. In 1980 the strip started to appear in the Los Angeles Reader, a weekly paper where Groening worked as an editor/delivery man.




Many readers were annoyed by Binky's habit of yelling about hip slang like "boogie" and "ambience." To stir more interest in the strip, Groening changed the rabbit from a grump to a victim. "The second my characters began to be tortured and alienated, the popularity began," he told Newsweek in 1987. "The more I tortured them, the more the readers loved me."

The adventures of Binky - and his girlfriend Sheba and one-eared son Bongo - struck a chord. The strip wasn't the best drawn in the world. That's OK - the words were the real attraction.

In 1987, Groening maried Deborah Caplan. She had joined the Reader advertising staff about the same time he started there. By their wedding day, they had quit the Reader to spend all their time on the comic strip.

The misadventures of Binky and his friends led to one major result: The Simpsons. They share many of the same views and ideas as the characters portrayed in the comic. And after fifteen years, The Simpsons remains one of the most popular and longest running shows on television.

For Groening, Futurama was a whole different project altogether. He used the show as a means of projecting his writing ideas created by years of dreaming of such a sci-fi cartoon series. It may not have lived up to the success of The Simpsons, but Futurama was an important part of Groening's career and he's fulfilled part of his life by doing so.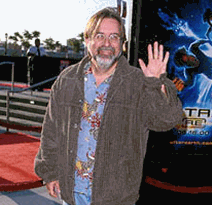 Groening's role with the show at the moment is to oversee what all the writers and producers are doing. He is able to step in at any time, change what he wants, suggest ideas, or refuse episodes entirely.